Vortex Capital Partners and ABN AMRO Participaties have acquired a majority stake in OPENLANE, the online auction site for used cars. The participation is part of the new growth strategy and objective of OPENLANE to exceed the threshold of 100,000 vehicles sold.
OPENLANE (OPENLANE) is an online car auction platform for car traders. The company sells annually about 40,000 end-of-life leasing vehicles and vehicles from car traders and fleet owners from Belgium, Netherlands, Germany, Italy, France and Spain to professional car dealers across Europe and more particularly in Central Europe. Thanks to an extensive expertise in cross-border car sales and a unique business model, OPENLANE knows how to stand out. OPENLANE is more than a platform where buyers and sellers meet. The company acts as a party in between buyers and sellers, works in a uniform manner and ensures a smooth delivery and payment for buyers and sellers.
OPENLANE was founded in 2004 by Steven Lismont, who remains a significant shareholder in OPENLANE after the transaction. Since the first auction in 2004, the company has experienced a strong growth, both in terms of volumes and profitability. The time for a new chapter has now come. Johan Meyssen, CEO of OPENLANE: "Our ambition is to at least triple our volumes during the next five years and to achieve this we have developed a new strategy. This strategy aims to better align the demand of our buyers and the supply from our different sourcing channels and countries. In addition, the new operational excellence model should allow us to better serve the customers so that all transactions are faster, easier and flawless. This should further increase the customer satisfaction and thus the loyalty of our customers."
Hugo Levecke, current Chairman of the Board of Directors of OPENLANE, comments on the participation of Vortex Capital Partners (VCP) and ABN AMRO Capital (AAPart): "The two Dutch investment funds fit entirely within the future plans of OPENLANE. Of course, they provide the necessary capital injection, but more important is the contribution of new ideas and expertise. VCP can rely on tons of expertise when it comes to ICT or online marketing. This should give the necessary impetus to accelerate the growth of our company."
Vortex Capital Partners is an investment fund that focuses on fast-growing small and midsized enterprises who have their headquarters in the Benelux. Evert Jan de Groot, Partner at VCP: "We are impressed with the management and founders of OPENLANE. In over 10 years, they have made of OPENLANE a strongly positioned player in the area of online car auctions. We look forward to working with the highly motivated management team and we are eager to further grow OPENLANE into the leading platform for online car auctions in Europe."
To this purpose, Vortex Capital Partners is working with ABN AMRO Participaties, the investment leg of ABN AMRO Bank. Based on majority or minority interests, AAPart provides in equity to growing mid-sized companies. This growth can be achieved organically or through acquisitions, with the support of a strong management team that is willing to invest. In 2016, OPENLANE is already the sixth new investment to ABN AMRO Participaties.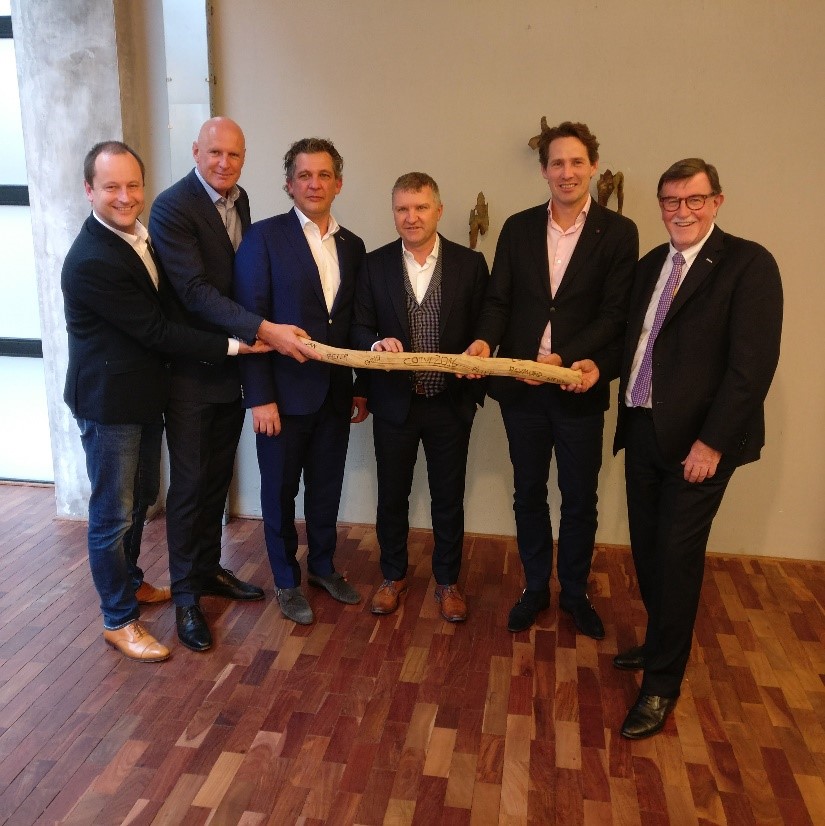 From left to right: Raymond Kuijten (ABN AMRO Participaties), René van der Wiel (Vortex CP), Johan Meyssen (CEO OPENLANE), Steven Lismont (Founder OPENLANE), Evert Jan de Groot (Vortex CP), Hugo Levecke (Outgoing President of the Board of Directors of OPENLANE).
Link to our press kit: Press kit