OPENLANE, the online auction website for the car trade, measures the customer satisfaction for each transaction since beginning 2017. With an average satisfaction score of 8.3/10, the car auction platform is one of the best in the sector.
Client first
Last year, OPENLANE developed a new strategy aimed at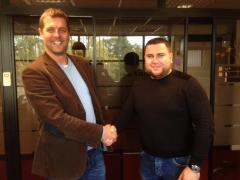 better aligning buyers' demands with their offer and increasing customer satisfaction by making all transactions faster, easier and hassle-free. "We really do everything to ensure our clients' success and satisfaction. They are the reason we exist after all", says Gino Vleminckx, CCO at OPENLANE. "It is therefore also logical that we continually monitor that satisfaction and work on points for improvement." Mihail Lapshin from Estonia welcomes this approach:"I have been working with OPENLANE since 2012 and I am a satisfied customer. All purchases run pretty smoothly and if there are any problems, they are resolved. OPENLANE is also always taking steps to improve the auction platform. I feel that I am a valued customer here, not just a number."
Recommended by an international buying public
"Since the beginning of this year, we ask our customers to rate us after every purchase", says Vleminckx. Specifically, we ask how likely they are to recommend OPENLANE to others. Based on this, the Net Promotor Score is calculated (https://www.netpromoter.com/), going from -100 to +100. A score of 0 is shown as average, a score above 50 is excellent. "With a result of 48, OPENLANE scores excellently among an international buying public from over 50 countries", says Vleminckx.
89% are satisfied to very satisfied

"89% of our clients are satisfied to very satisfied, 59% even give us a top score of 9 or 10/10", continues Vleminckx. "That means that the customer experience is not yet optimal in 11% of vehicle sales. Less than half of this is linked to additional damage identified on the vehicle. In these cases, our client department finds a solution through our claims policy. It includes a number of guidelines based on our long track-record and client feedback. This figure does of course need to be taken in the context of the remarketing sector, where damage is inherent to the purchase of second-hand vehicles.
From feedback to new service
What does OPENLANE do when it receives a lower score? "With a score of 7 out of 10 or less, we follow up closely, ask additional questions and work out a suitable solution", says Vleminckx. "The systematic method for receiving feedback has led this year to the launch of several new services.
As a result, we have launched 'Optimo', a package of 3 services that includes a payment delay, extra vehicle inspection and priority transport to the HUB. 'Ultimo' also fits into this list. With Ultimo, the auction winner gets 5 additional minutes to give his best and final offer, in order to increase your assignment chances dramatically."
These services and solutions benefit the steps taken by the company to guarantee the continuous growth of its business. OPENLANE has the ambition to increase its volume by 2021 to 100.000 cars sold per year.
About OPENLANE
OPENLANE (OPENLANE) was founded in 2004 and, with 5 branches and 137 staff, it has now grown to become a major player on the European market. The online car auction platform sells end-of-contract lease cars and vehicles that come from car dealers and fleet owners. The vehicles are sold to car dealers throughout Europe, especially in Central and Eastern Europe.
| | |
| --- | --- |
| Company | OPENLANE |
| Number of staff | 137 |
| Number of cars sold | 42.000 |
| Top 5 purchase countries | Belgium, the Netherlands, Germany, Italy, France |
| Top 5 sales countries | Czech Republic, Poland, Romania, Hungary, Slovakia |