By PHILIP DE PAEPE
From 2021 onwards, the automobile industry must reduce CO2 emissions of new cars to 95 g CO2/km. This is due to a new European standard which manufacturers and the industry must adhere to. This is no mean feat, and so Europe has created what is known as a supercredit system, under which ecological and clean cars compensate for their counterparts within the range. But now it's a race against time…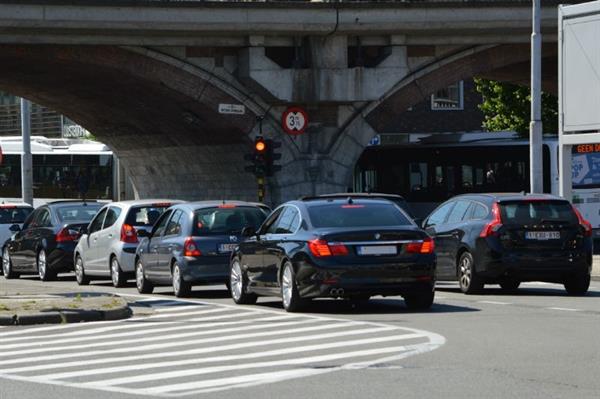 Despite intense lobbying from the German car industry, the EU has set high standards for 2021.
As well as the CO2- limit of 95 g/km, from 2021 new cars will also have to use a maximum of 3.9 l/100km. This will actually be the case a year earlier, but due to a transitional regulation in place, in 2020 a minimum of 95% of car sales will have to comply with the new requirements.
Manufacturers not adhering to the standard will be fined €95 for each car for each gram exceeding the limit emitted by the vehicle.
To be clear, 95 g is the industry standard, but that doesn't mean that all manufacturers have to achieve this target on an individual basis.
On the one hand, history was examined, looking at the average emissions across a manufacturer's range in recent years.
On the other hand, the range and sales volumes were also looked at. Manufacturers with lots of compact models in their range have a stricter target than those with larger models.
For example, Jaguar Land Rover has a target of 132 g, while Toyota's target is 94.3 g. This is partly down to sales volumes for a large manufacturer like Toyota carrying a heavier weighting in the calculations, and also partly due to their history. For years, Toyota has had a focus on hybrid technologies while Land Rover trades in heavy off-road vehicles and its environmental progress has been slower.
Supercredits
Although the European car industry invests €50 billion in R&D each year, a large part of which goes towards engine development, a number of brands will struggle to meet the 2021 deadline. There's therefore a very real chance that huge fines will be levied.
To give manufacturers some breathing room, transitional measures in the form of "supercredits" were created. Car manufacturers are able to compensate for models with high emissions with what are known as super credits, which they earn with extra-clean, environmentally-friendly models.
This means cars emitting less than 50 grams counts for double in 2020. In 2021 they will count 1.62 times, with the proportion reducing each year thereafter.
Diesel market share dropping, higher CO2 emissions
However, the automobile industry is still faced with a huge challenge, which is directly linked to the drop in diesel's popularity. A diesel engine emits around 15 per cent less CO2 per kilometre than petrol one.
With a projected 30% drop in sales of diesel engines in the years ahead, this will mean a 5% increase on CO2 emissions. This explains why manufacturers are putting so much effort into making their ranges electric, as that is the only way to achlieve a significant drop in CO2 emissions.
They're nevertheless still at a stalemate: diesel engines are excluded due to their fine particle emissions, but in terms of CO2 they perform better than petrol engines.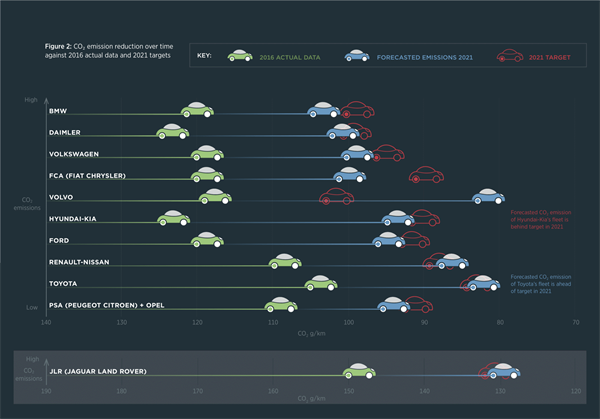 Picture: PA Consulting
Good and less good
PA Consulting Group has carried out a broad market study about the new emissions regulations and has made some predictions based on historical data and the technological strategy manufacturers will be following in the years ahead.
They calculate that only 4 out of the 11 manufacturers (see infographic) will reach this standard.These four are Volvo, Toyota, Renault-Nissan and Jaguar Land Rover.
Premium manufacturers like Daimler and BMW are flirting with the limit, but according to the PA Consulting study they will not achieve it. The same is true of bulk manufacturers such as FCA Group, PSA Group (which includes Open-Vauxhall), Ford, Volkswagen and Hyundai-Kia.
Super-fines and more expensive cars
The consequences of failing to meet the standard may be far-reaching, and for some manufacturers the fines could run to over a billion euros. Everyone faces the same fine: 95 euro per gram exceeding the limit. The individual targets for each brand should be noted here (see table).
The ball is now in the manufacturers' court. They will have to pull out all the technological stops to achieve these CO2 targets. Investments in alternative engine types cost a lot of money, though, and manufacturers will have to pass this charge on to consumers. There are projections of additional costs in the range of €1000 – €3000 per vehicle.
This is yet another headache for an industry which is already under a great deal of pressure.